First bike trip abroad, 2011 Mega Tref.
When I was sixteen and at college in Thurso I jumped on the train and 'popped' down to Middlesbrough to see my Dad. The journey down there was very scenic and I promised myself that I would take a tour in the area on my bike, when I got one and sat my test etc. I never have done but I keep telling myself that I will. So I have a desire to tour by bike but I'm just not very good at getting up and doing it..... until now.
In 2009 I bought a 1997 silver and yellow TDM 850 on eBay, whilst looking for luggage for my Fireblade. This turned out to be a good move as I soon discovered the Carpe-TDM owners club, a great forum. I took my son Ryan, camping in the New Forest in 2009 on the mkii TDM and in 2010 I took my daughter Tara on my new 9er, whilst my mate Dave took Ryan on his VFR800. This was leading up to a 'proper' trip..... Germany Mega Tref 2011.
A fair bit of preparation went in to the trip. I liked the TDM 850 so much I sold it, to buy a TDM 900. I felt the mkii TDM was a bit top heavy and the weight ratio was biased too much to the rear, meaning when fully loaded the front was too light for my liking. Also backing the bike in to the garage I dropped the 850 and new it would happen again, the 9er on the other hand feels like the weight is more centralised and thus easier to manhandle in and out of the garage.
Chris Flatt, a member of Carpe-TDM was selling his mint 2008 back TDM 900 and I had to have it, wife convinced it was a sound idea and my ticket to Edinburgh from Bournemouth was bought. A rather chilly ride home and all was well. The bike came with a top box, a Givi Simply 45 litre affair, basic but good enough for the job. I looked at the options for Panniers and in the end bought a used set of Givi V33 panniers from another Carpadien. After the 2010 camping trip I realised that the luggage capacity of the 9er was not as good as it had been on the mkii. So I bought a Bagster tank cover and tank bag from the NEC bike show. Also I bought more compact sleeping bags and a more compact camping stove.
http://direct.tesco....ontent=204-2384
These aren't very warm but good enough for camping in the summer months.
http://www.gooutdoor...s-stove-p158211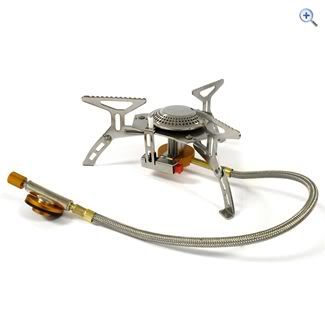 This camping stove is excellent! Fast to boil and ultra compact, Adventure Bike Rider magazine rated this stove highly!
For communications I had previously bought a cheap Chinese bluetooth intercom, this was ok but not quite loud enough for good communications over 70mph. So more money was spent on an Interphone F4 system.
http://www.interphoneuk.com/F4.php
This intercom is excellent, battery life is 13 hours non-stop, volume good enough for autobahn speeds and good sound quality to boot.
Here's my review,
http://www.carpe-tdm...mp;#entry212858
The next issue was what to do about communications to other riders. Interphone have developed the Tribe radio system. This is a PMR radio with VOX and must have a bluetooth headset to operate. I decided against this as I wanted to be able to use the PMR radio when out and about on tour, especially abroad so as to avoid racking up a mobile phone bill. A bit of research and I found the Midland G8 BT. This is an excellent radio, the same price as the Interphone Tribe but a conventional radio to boot! The battery life is not brilliant, about 10 hours, so I bought a 12v charger lead.
http://midland-uk.co...-way-radio.html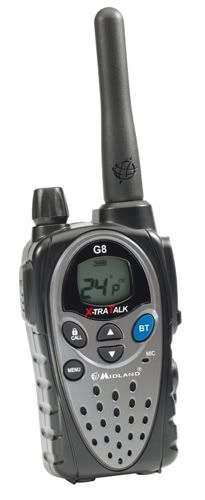 I had bought a three man tent with a small enough pack size to mean it could be packed in to my topbox.
Coleman Rock Springs 3. This is an excellent tent, packs small, big enough for two with kit and very good in inclement weather!
I've read lots of articles about people travelling the world by bike, and from what I can gather a good nights sleep is one luxury you can take with you, in the way of an inflatable mattress. So I took the great big flock double inflatable mattress, it's worth room it takes up in my book!
So, kit sorted, bike sorted, tunnel booked and camping pitch booked at the hotel, Lets go!
We have booked on to the 06:00 tunnel from Folkstone, with a 05:20 check in time it means leaving at 02:00 to allow plenty of time. For some reason I decide the night before we leave that it's a good idea to print up a couple of T-Shirts for the trip, two hours later

and I've got,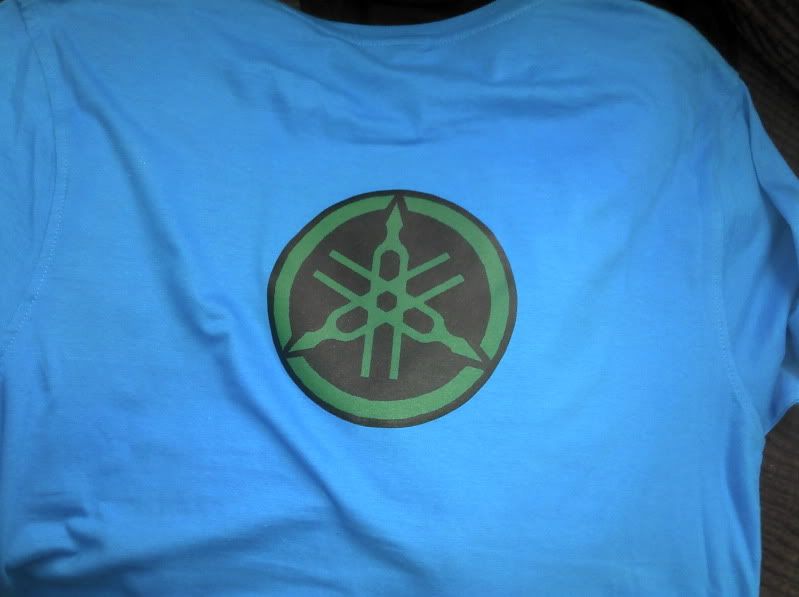 Cost me six pounds for two T-Shirts.
So after wasting time doing this I get to bed two hours later than planned, but the bike is all packed up and ready to go, but I still have to fill up before we leave.....
Our route is,
Didcot to Folkstone
Calais to Liege
Liege to Wetzlar
Wetzlar to Masserberg
Here's a link to google maps,
http://maps.google.c...1...0525f&msa=0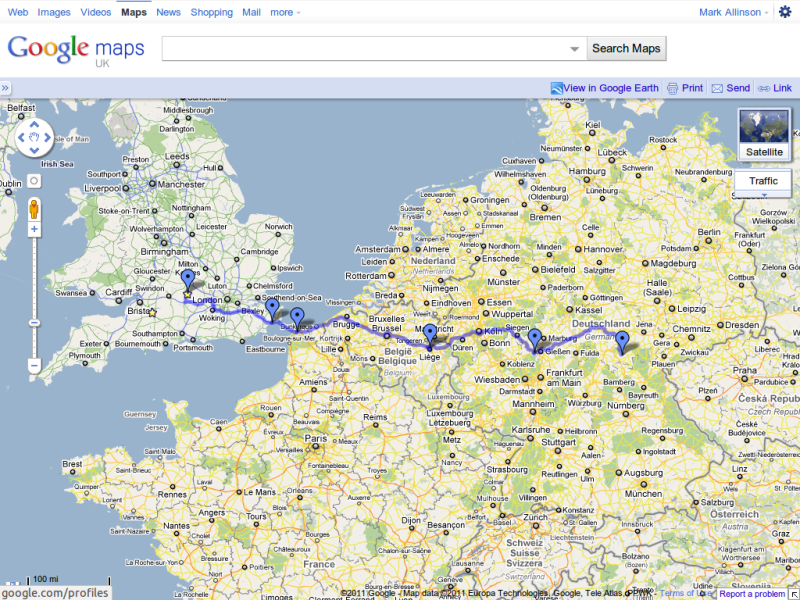 We rise at 01:30, Dave gets round ours for 02:15 and we are on our way at 02:20. fuel up and off to Folkstone.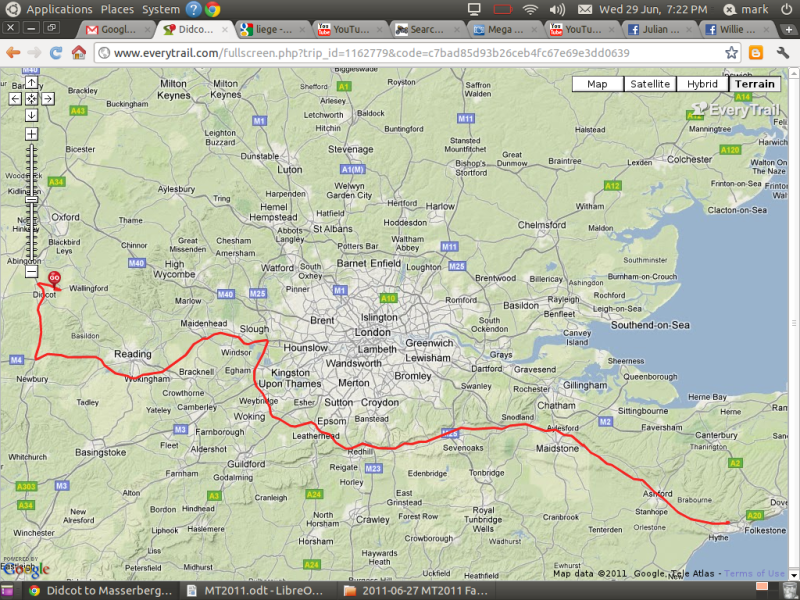 Ryan watches his first sunrise and we fuel up before getting to the tunnel at just gone 05:00, time for a cup of tea!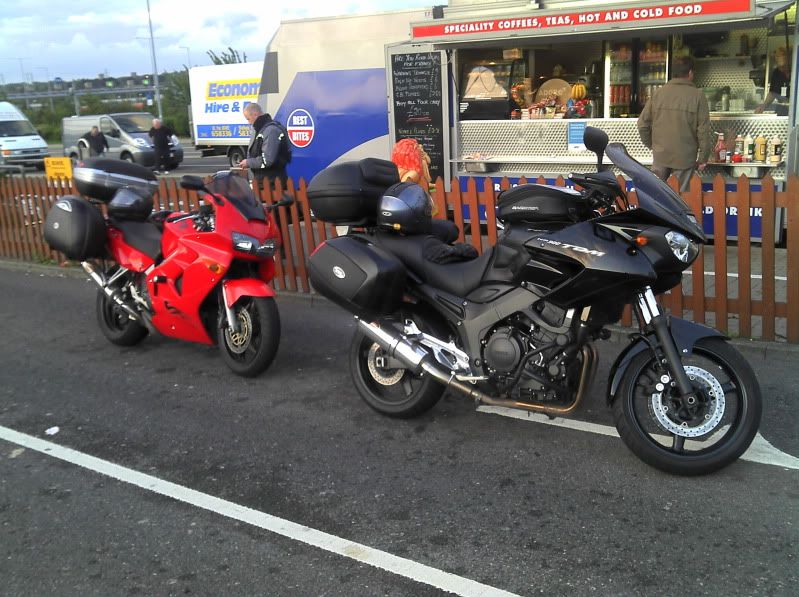 I must say the Euro Tunnel is great, if you are early and there is room you can get an earlier train, no fuss! There is no special provision for the bikes though, but it seems it's not really needed. You just ride on to the train and stay on the left (as the floor plates in the middle can rise up and are slippery with oil from the cars. The bikes are parked in to the left with the front wheel against the wee bit of kerb and in gear, this is so they don't roll forward when the train decelerates. I used a Velcro strap around the front brake as an extra precaution, this seemed to work well. I did feel a bit nervous watching my bike wobble around a bit as the train was travelling.
We arrive in France about 30 minutes later,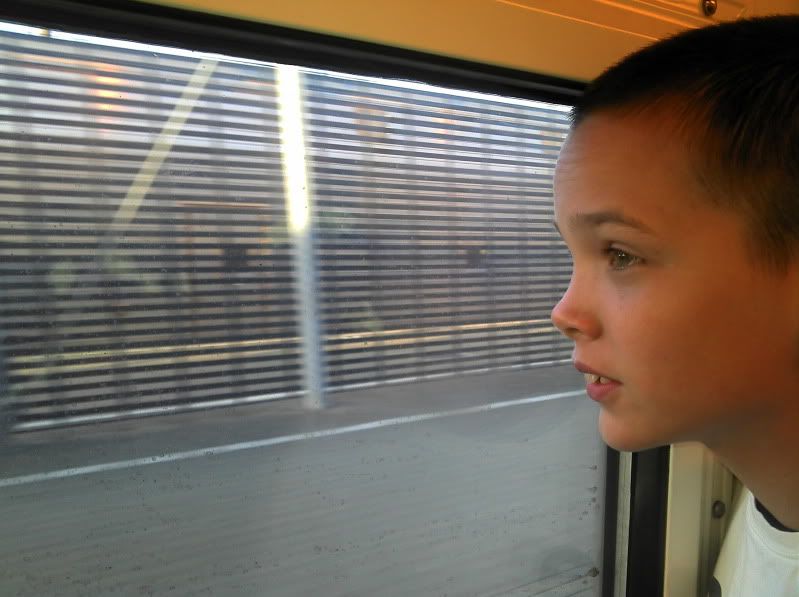 It's just so easy on the tunnel, I'd definitely recommend it, also you pay for the vehicle not the passengers a big plus point!
We crack on to Liege in Belgium, it's a straight forward run on the motorway and it's easy to ride on the right side of the road as you've got no choice to begin with! Then we find our selves riding through the centre of Brussels, including a congested tunnel. The tunnel isn't too bad as nearly all the drivers make room for us to filter, indicating and pulling over! Such a contrast to the UK.
We ride in to the centre of Liege fuel up and find a parking space. We end up parking outside a cinema in the centre of town. My PMR radio batteries have gone flat so I connect my 12v charger, which means I can't use the PTT. I get around this by enabling VOX and set it to minimum sensitivity. We have a bite to eat, a drink and a Jimmy Riddle, then hit the road again. Dave reports that my radio is cutting in and out due to wind noise. I'll look in to sorting a lead for both charge and PTT (they use the same 2.5mm socket). Pretty soon this doesn't matter as Daves radio is soon flat too and he didn't bring his 12v charger.....
We have a cross country run from Liege to Wetzlar, nicer roads than the motorway but we can't make decent progress. After a bit of head scratching it transpires that the CoPilot Live software was set to motorcycle, which takes more 'interesting' roads. I set this to car mode and we were back to the quicker roads.
I went to Wetzlar for OxenFest in 2009 with some work mates. This was a cracking trip and I really liked Wetzlar, so the choice to stop off there for a quick break was easy to make. It was en-route and approximately a fuel tank from Liege.
Now for a nice cup of tea!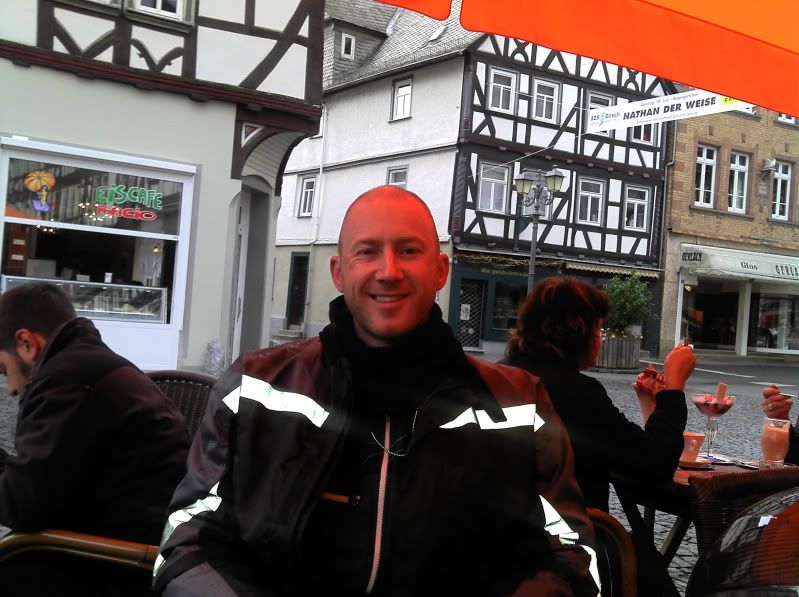 It starts raining as soon as we sit down, good timing. We take our time and when it stops raining we have a wander about in Wetzlar and take a few photos. I ask Ryan if he'd rather stop in Wetzlar for the night and he says he's happy to carry on as he's keen to meet the TDMers!
We hit the road again for the final push on to Masserberg. All the time I'm asking Ryan if he's ok to keep going. Eventually I spot the Golden Arches of McDonalds, I don't have to ask Ryan twice if he want's to stop. It's the best MaccieDies we've ever had. One of the staff speaks good english so this makes ordering easy, she's quite surprised when I tell her we've come from Oxford, today!
By now our intercom has gone flat so there are no communications at all, Tony Davis has a point regarding Autocom being hard wired and not losing communications on long trips...
The Satellite Navigation is still going strong and tells me there's only fifteen miles to go to the hotel.... then the rain gets heavy. We get led down a gravel road, in the rain but I'm too tired to care and press on. Then finally the hotel, I recognise it from the website, the only problem is I can't see another TDM anywhere. It's nearly 9pm, Ryan and I get off and take a look around the Hotel, finally we find the Restaurant with some Carpadiens, we are in the right place. We check in and it turns out we had stopped just around the corner from loads of TDMs!
So we quickly get changed and head to the bar to say hello.
We get a great welcome and the beer is very nice. Many can't believe we've just travelled 1120km since 2am.
We don't stay long as Ryan (and I) need to get to bed. It's been a long day but overall it's gone well.
Edited by maximuspetrolhead, 29 June 2011 - 07:10 pm.