I thought this would be a lengthy post and is a job I've been putting off for about 2 years now.
Although I've done it before I just couldn't be bothered, but as it turns out, it only to about 90 minutes start to finish.
You will need a minimum of:-
12mm socket (caliper mount bolts)
Allen keys
8mm + 10mm ring spanner
27mm ring spanner or deep socket
17mm socket.
Wheel spindle tool (I made my own)
1 litre of 10w fork oil or whatever your oil of choice may be.
First things first. The night before give all fasteners a good soaking in release oil of your choice (I prefer Duck oil).
First note position of the pre load adjusters then undo to their softest position.
Undo top clamp allan bolt.
Then loosen the cap (27 mm nut) by half a turn.
Loosen all brake hose clamps and remove caliper mounting bolts.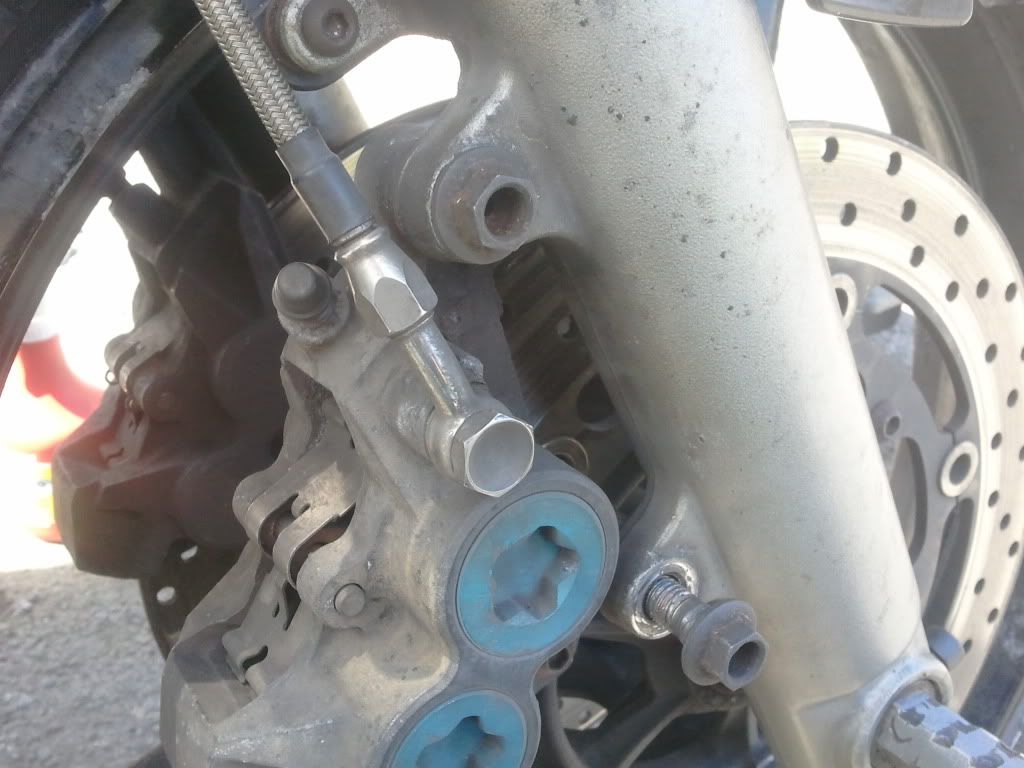 Slide calipers off the discs and tie up out of the way.
Undo wheel spindle pinch bolt.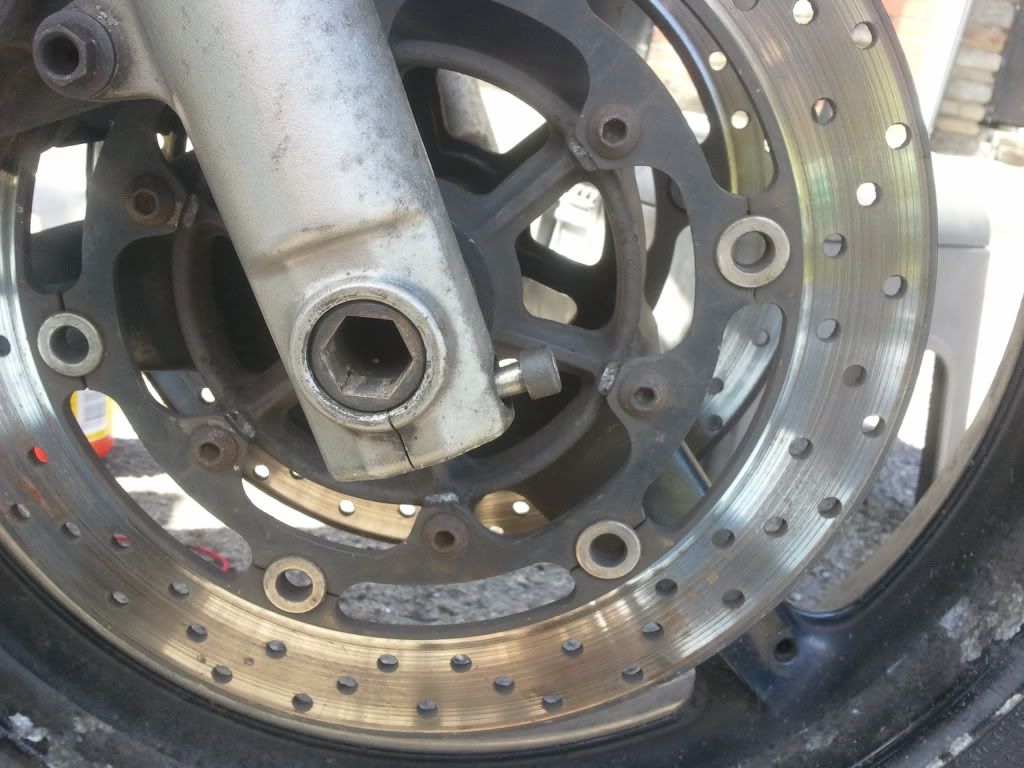 and slacken wheel spindle.
Raise front wheel and remove spindle taking care not to lose the spacers, the wheel can now be set aside.
Remove mud guard mounts.
Front
and rear
and give to swmbo for a good cleaning.
Undo and
completely remove
bottom clamp pinch bolts.
If your forks haven't been removed for some time give the top and bottom clamps a spray with release oil and go and have some tea and

.
The next part can be a bit tricky and an extra pair of hands can be useful too.
Grip fork tubes and pull down whilst twisting (easier said than done I know) until fork is clear of lower clamp.
Repeat for other leg.
Remove all traces of release oil from forks and clamps using a degreaser then dry thoroughly.
Now undo and remove cap, preload and damping adjuster assembly and set aside.
Don't worry, the cap doesn't pop off like some bikes' as it's not under tension because you wound off the pre load earlier.
Slowly compressing the fork tube, remove top washer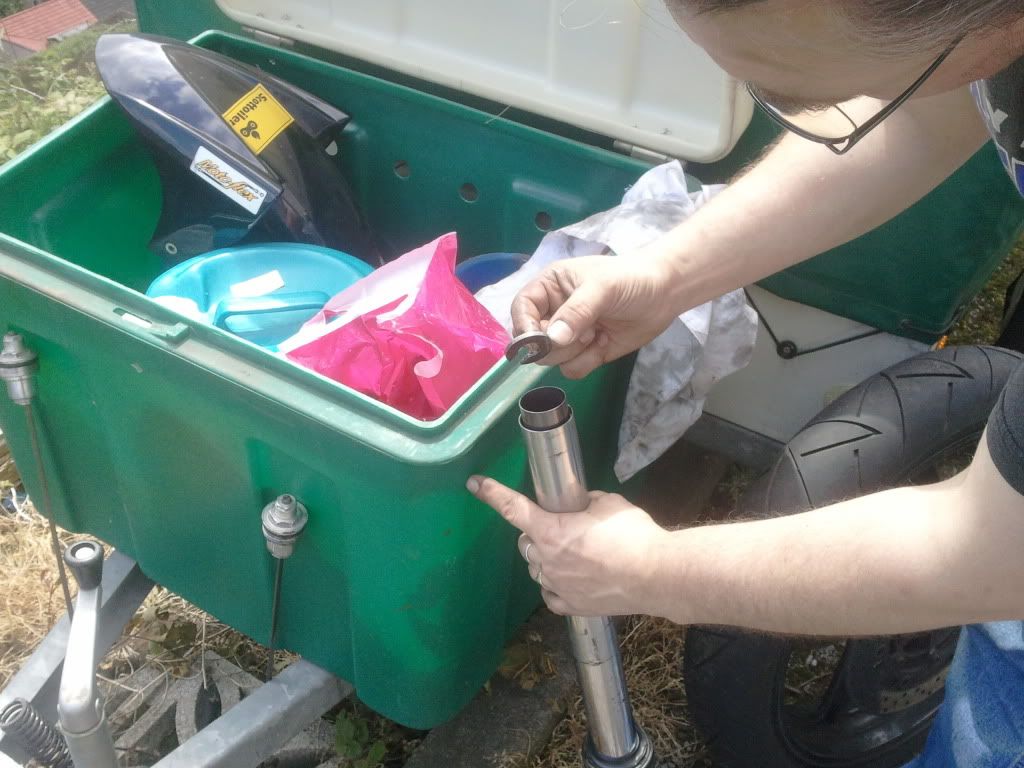 Tube,
and bottom washer (which I didn't get a picture of)
With a rag wrapped around the tube, slowly remove fork spring noting the tighter coils are at the top.
Invert and empty oil into a suitable container, pumping a few times to make sure it's all out.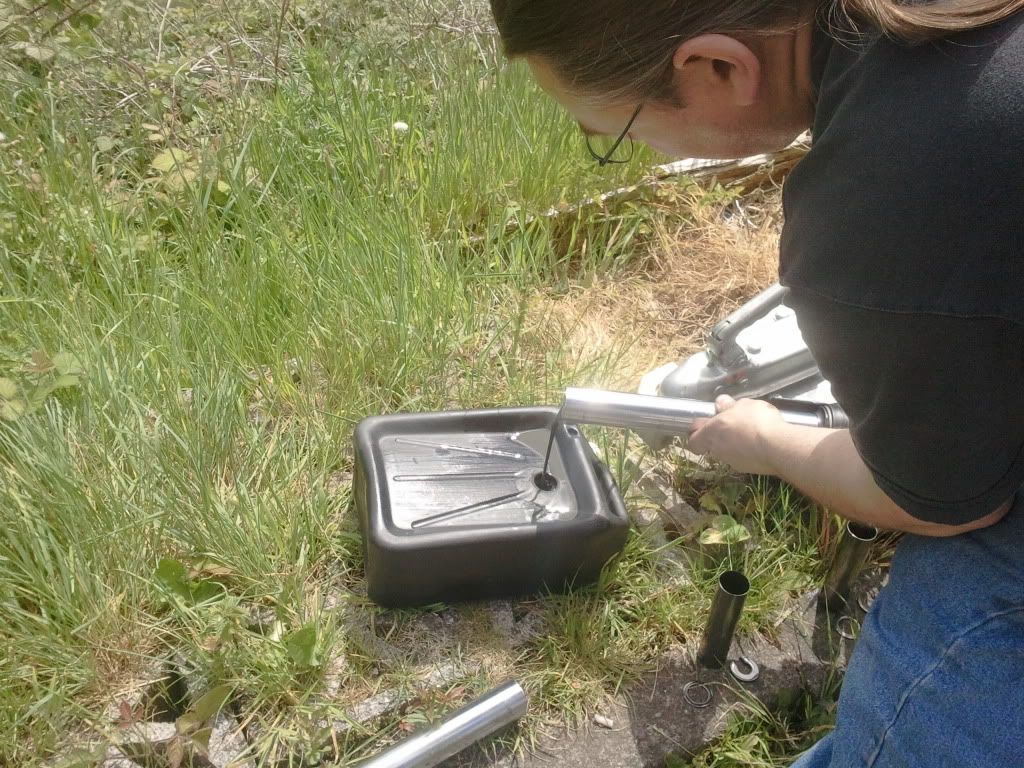 Repeat with other fork then leave them upside down and go have some more

.
Now there are two ways to refill.
1- Use the correct amount of oil by volume (507ml)
2- Use the correct oil level by measurement (133mm)
As the oil comes in 500ml containers I just put 500ml in each fork.
Pump slowly a few times to remove air bubbles then leave for 10 minutes to settle.
Re insert spring (tight coils up), bottom washer, tube and top washer.
Replacing the cap can be a bit tricky as the rod has to fit into the damper assembly in the bottom of the fork leg, if you have it right it will just drop in if not (don't force it) you will have to play around with it till it goes in.
One went in fine for me, the other took five minutes of manipulating.
It might be some what contracted but there is nothing notable about reassembly, just make sure the forks are on the correct side

, all fasteners are tight and you remember to reset the pre load and damping.
Torque settings:-
Cap- 23Nm
Top clamp pinch bolt- 26Nm
Lower clamp pinch bolt-28Nm
Brake caliper mounting bolts- 40Nm
Wheel spindle- 72Nm
Spindle pinch bolt- 20Nm
Mud guard bolts- 6 and 10 Nm
Hope this helps anyone thinking of trying this.
CB